AFF Cup: Scoring a brace a wildest dream – Wilkin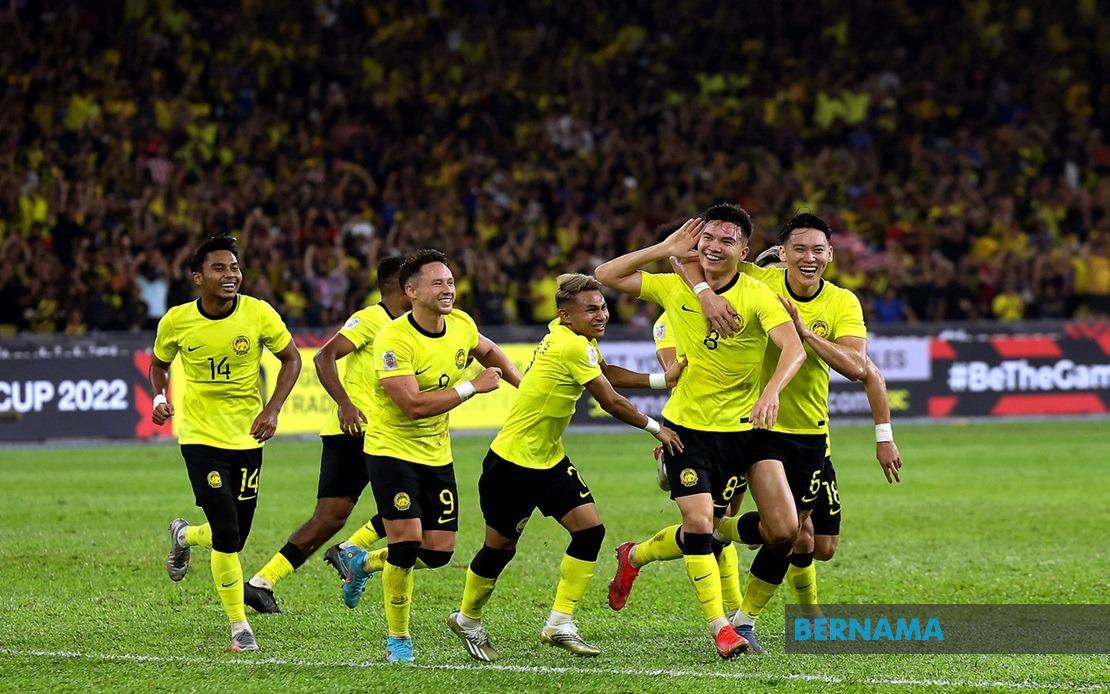 The national team celebrates Stuart John Wilkin's goal (second, right) in the Group B match of the 2022 AFF Mitsubishi Cup between Malaysia and Singapore at the Bukit Jalil National Stadium last night.
KUALA LUMPUR, Jan 4 (Bernama) -- Scoring a brace for Harimau Malaya in front of the home fans was indeed a wildest dream for him, said midfielder Stuart Wilkin, who is of Malaysian-English parentage.
Wilkin said he never thought that he would be able to find the net twice in a match in the Group B competition of the ASEAN Football Federation (AFF) Cup 2022.
His brilliant performance in netting a brace in Malaysia's 4-1 win over Singapore at the National Stadium, Bukit Jalil here last night, earned him the "Man of the Match" award.
"I am a player that always believe in myself a lot. I rarely score in Malaysian football. Scoring two goals in front of more than 65,000 fans put a smile on my face.
''It was an amazing night. I hope to score more in the Malaysian jersey next," he told the post-match press conference.
After Darren Lok drew first blood for Malaysia in the 35th minute. Singapore's substitute striker Shawal Anuar's poor first touch allowed Wilkin to regain possession and let fly a piledriver from outside the box in the 50th minute.
He then struck again four minutes later and thus increased his goal tally to three in the tournament after scoring his first in a 5-0 thumping of Laos on Dec 24, also at the National Stadium, Bukit Jalil.
Commenting on the match, the Sabah FC player described the stunning win in the 'Causeway Derby' as one of the biggest nights in Malaysian football and hailed the coaching staff for their dedication as well as tremendous work behind the scenes.
"I also believe every player that steps on the pitch can put a performance that all the fans can be proud of. I am very proud to represent the country," he said.
While acknowledging the fact that a tricky journey lies ahead for Malaysia in the semi final against Group A champions Thailand next, the 24-year-old player, however, said he just wanted to seize the moment and try to grind out results in a bid to reach the final.
Vietnam defeated Myanmar 3-0 in their last Group B match at the My Dinh National Stadium in Hanoi also yesterday to top the group with 10 points, followed by Malaysia (nine points), Singapore (seven points) and Myanmar and Laos (one point each).
The other semi final is between Vietnam and Group A runners-up Indonesia.
-- BERNAMA