AFF Cup: One of Harimau Malaya's best performance - Pan Gon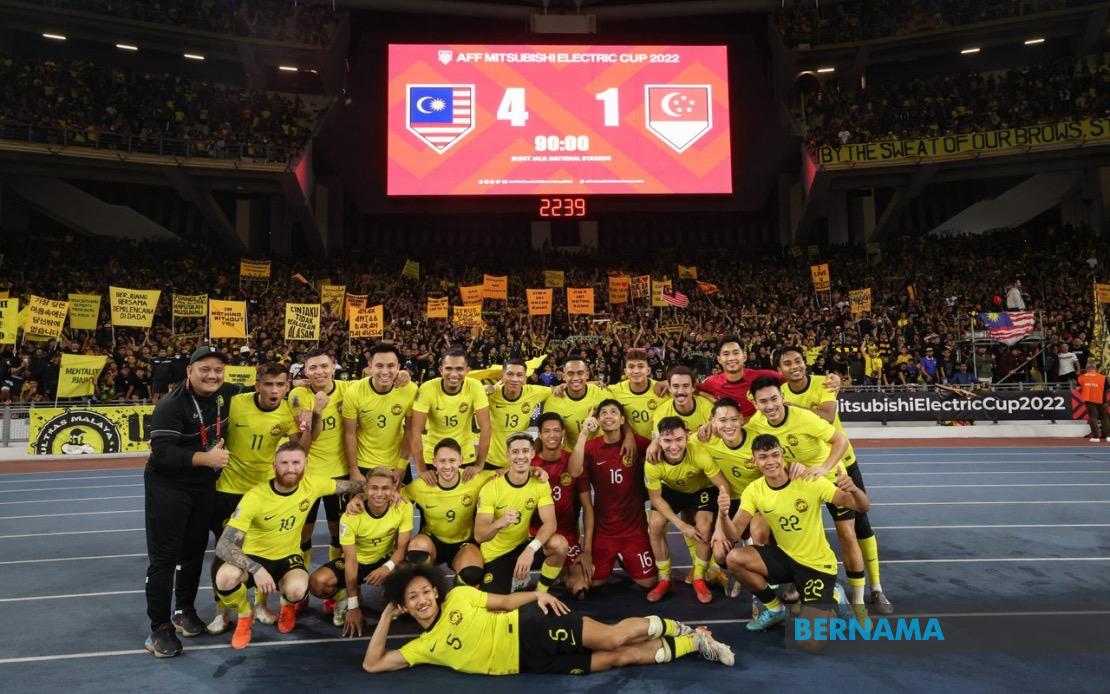 KUALA LUMPUR, Jan 3 (Bernama) -- National football head coach Kim Pan Gon described his team's empathic 4-1 victory against Singapore tonight as 'one of the best performance' he has ever seen from them.
He added that he was pleased to see his team unlock their potential and blow their rivals away in the 2022 ASEAN Football Federation (AFF) Cup Group B decider to qualify for the semifinals in front of over 65,000 fans at the National Stadium in Bukit Jalil here.
"We can see their desire and passion. They have put their best heart on the pitch, showed great team spirit and gave good football to the fans tonight, that was the most impressive," he said at the post-match press conference.
The South Korean said tonight's win proved that all their hard work these past five weeks had paid off as they continue onward to the next stage of their 'ASEAN World Cup' tourney.
More importantly, he expressed his gladness that his players were able to regain their momentum after their controversial 0-3 loss against Vietnam, last week.
"I think my players were under huge pressure (before Singapore's game) as they need to perform to convince themselves….I fully encouraged my players to enjoy the moment, but tomorrow we start again," Pan Gon said.
Meanwhile, Singapore's head coach, Takayuki Nishigaya admitted that he was clearly disappointed with the result after failing to help Singapore through to the semifinals.
"It was tough to play here but there is a lot of room for improvement for them because they have huge potential to grow further. Anyway, congratulations Malaysia and I wish them all the best in the next stage," he said.
The result of today's match recalls that of their clash in the 2014 edition at the National Stadium in Singapore, which Malaysia won 3-1 to secure a spot in the semi-finals as Group B runners-up.
Malaysia will take on Group A champions Thailand while Vietnam will face Group A runners-up Indonesia in the upcoming semifinals.
Vietnam defeated Myanmar 3-0 in their last Group B match at the My Dinh National Stadium in Hanoi tonight to top the group with 10 points, followed by Malaysia (nine points), Singapore (seven points) and Myanmar and Laos (one point each).
-- BERNAMA