Petanque teams from Malaysia, Thailand emerge Johor International Tournament champions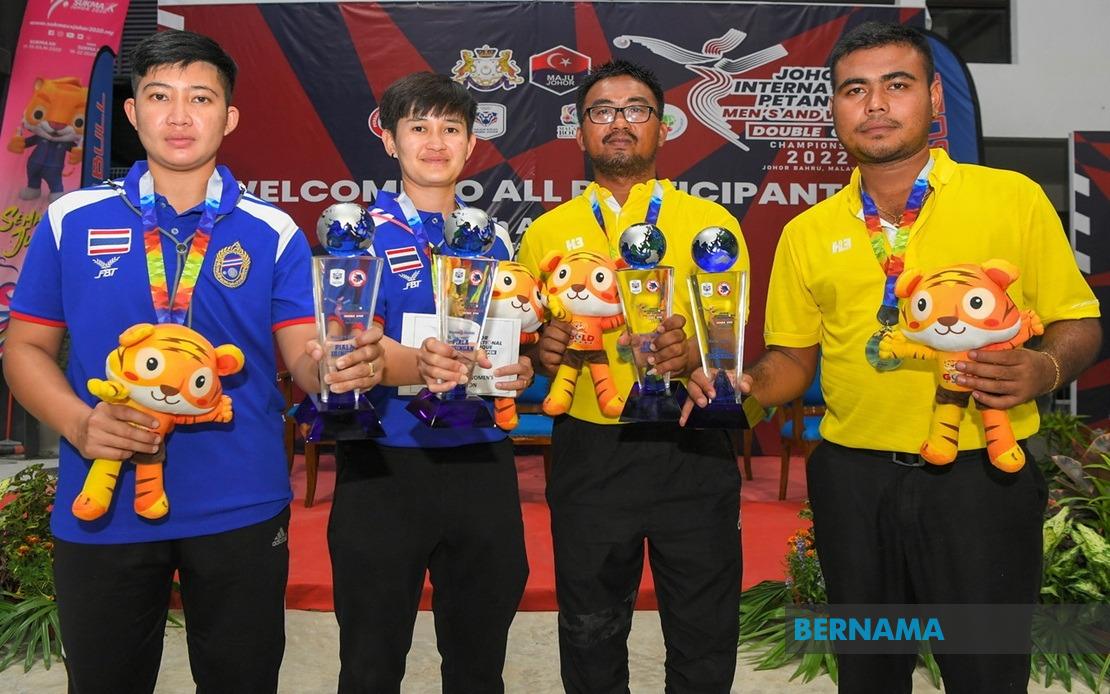 JOHOR BAHRU, Aug 28 (Bernama) -- The petanque teams from Malaysia and Thailand respectively won the men's and women's open petanque titles of the 2022 Johor International Petanque Championships which came to a close in Arena Emas here today.
The men's category was won by Madu Tiga PW9 of Malaysia represented by Thai players, Thanakorn Sangkeaw and Chaiwat Ketngam beat Madu Tiga PW10 represented by Thailand's Naratip Nunut and Sakkareeya Sanyen 13-4 in a match which lasted an hour.
In the women's category, team Thailand A of Thailand comprising Nantawan Fueangsanit and Phantipha Wongchuvej defeated Jatim Indonesia A represented by Anjani Dwi Apriliah and Sephia Febriyanti 13-7 in over an hour.
Team Sukma Johor 4 of Malaysia comprising national players Mohd Arif Kana and Mohamed Syahzwan Mohamed Sani who took the bronze in the SEA Games in Hanoi, Vietnam could only make it to the quarter-finals.
Meanwhile, Phantipha said her team who was expected to win based on their experience, faced stiff competition due to the different pitch and technics applied here.
"Besides, there are so many teams in this competition, however, we manage to defeat them," said Phantipha who won the gold medal with her partner, Nantawan in the 2021 World Petanque Championships in Santa Susanna, Spain.
The men's champions took home medals and a trophy as well as RM6,000 while the women's team won RM4,000 with medals and a trophy.
In the meantime, Johor Deputy State Secretary (Sports, Youth and Volunteers) Datuk On Jabbar said the tournament was a success because it received good response from local and foreign teams and it had been recognised by the Malaysia Books of Records for the most participation in petanque.
"More than 900 people participated in this tournament with 474 teams, it was incredible, even the participation of teams from Johor was very encouraging. This tournament will be included in the annual calendar of the International Petanque Federation (FIPJP) as an annual tournament and is expected to be held next year," he said.
He said the tournament could also give exposure to the country's petanque athletes as a warm-up for the 20th Malaysia Games (Sukma) starting from September 16 to 24.
The tournament which saw nine countries participating namely Malaysia, Singapore, Indonesia, Brunei, Thailand, the Philippines, Cambodia, Nepal, and South Korea, was held at two locations, the Arena Emas and Arena Petanque MBJB here over two days.
-- BERNAMA